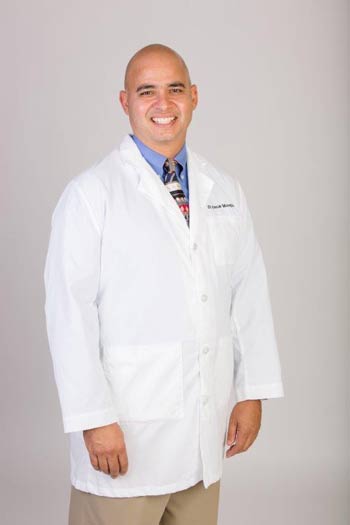 ---
Dr. Oscar Morejón left Cuba at the age of five and grew up in Miami. After graduating from the University of Miami with a degree in Biology in 1985, Dr. Morejón moved to Gainesville to pursue his dental degree at the University of Florida. A one year General Practice Residency at Gainesville's Veteran's Hospital followed. Dr. Morejón then moved to Memphis, Tennessee where he married and practiced general dentistry for two years while his wife, Dr. Elizabeth Morejón, completed her residency in Orthodontics. Those two years of general practice and the year in residency laid the foundation for Dr. Morejón's interest in Periodontics. Dr. Morejón returned to Gainesville in 1993 to complete a two year residency in Periodontics.  Dr. Morejón is a Board Certified Periodontist.
Dr. Morejón's exceptional performance in his residency led to his recruitment by one of North Florida's premier Periodontal practices. Dr. Donald Keene invited Dr. Morejón to join his practice in 1995 and they practiced together in Daytona Beach until Dr. Keene's retirement in 2004. During that time Drs. Morejón and Keene expanded their practice to include an office in Palm Coast. Dr. Morejón actively participates in organized dentistry on the local, state and national levels. He has served as president of the Volusia Flagler Dental Association and as a delegate to the Florida Dental Association. Additionally, Dr. Morejón participates in a number of local study clubs to continually improve his skills and relationships with other dentists. As the Director of Tomoka Seminars, Dr. Morejón has brought nationally recognized dental speakers to Volusia County to enhance the level of dental care to his patients.
Dr. Morejón and his wife have three daughters, Olivia, Zoe and Annie. Dr. Morejón enjoys biking, fishing, traveling and spending time with his family.
Postdoctoral Studies, Private Practice
---
Veteran's Administration Hospital, Gainesville, Florida
General Practice Residency, 7/1990-7/1991
Private Practice, Memphis, Tennessee
General Dentistry 8/1991-6/1993
University of Florida, Gainesville, Florida
Certificate in Periodontology, 7/1993-7/1995
Tomoka Periodontics and Implant Dentistry, Daytona Beach, Florida
Periodontics 7/1995-Present
Professional Affiliations
---
The American Dental Association
Florida Dental Association
Volusia-Flagler Dental Association
American Academy of Periodontology
Southern Association of Periodontists
The Florida Association of Periodontists
The American Academy of Osseointegration
Central Florida District Dental Association
---